As part of my immersion into all things Innovation Enterprise I was invited to attend the first day of the Chief Digital Officer Summit. This summit brought together some of the brightest CDOs in the industry to learn from each other. It took place in the Park Plaza Victoria hotel.
I had a really great time learning from the amazing line-up of speakers and seeing what the Conference Organisers and Creatives here at Innovation Enterprise do during a conference.
Key Themes
Even though each speaker came from different companies and industries I felt there were some key themes throughout;
We need to meet our customers where they live at a time of their choosing.
We need to get buy in from upper management and key stakeholders early towards social and digital.
We need to be constantly testing and learning.
With these themes in mind I want to give you a brief overview of what I took away from the various talks.
Patrick Jubb – Re-building the Marketing Department to be Fit for the Future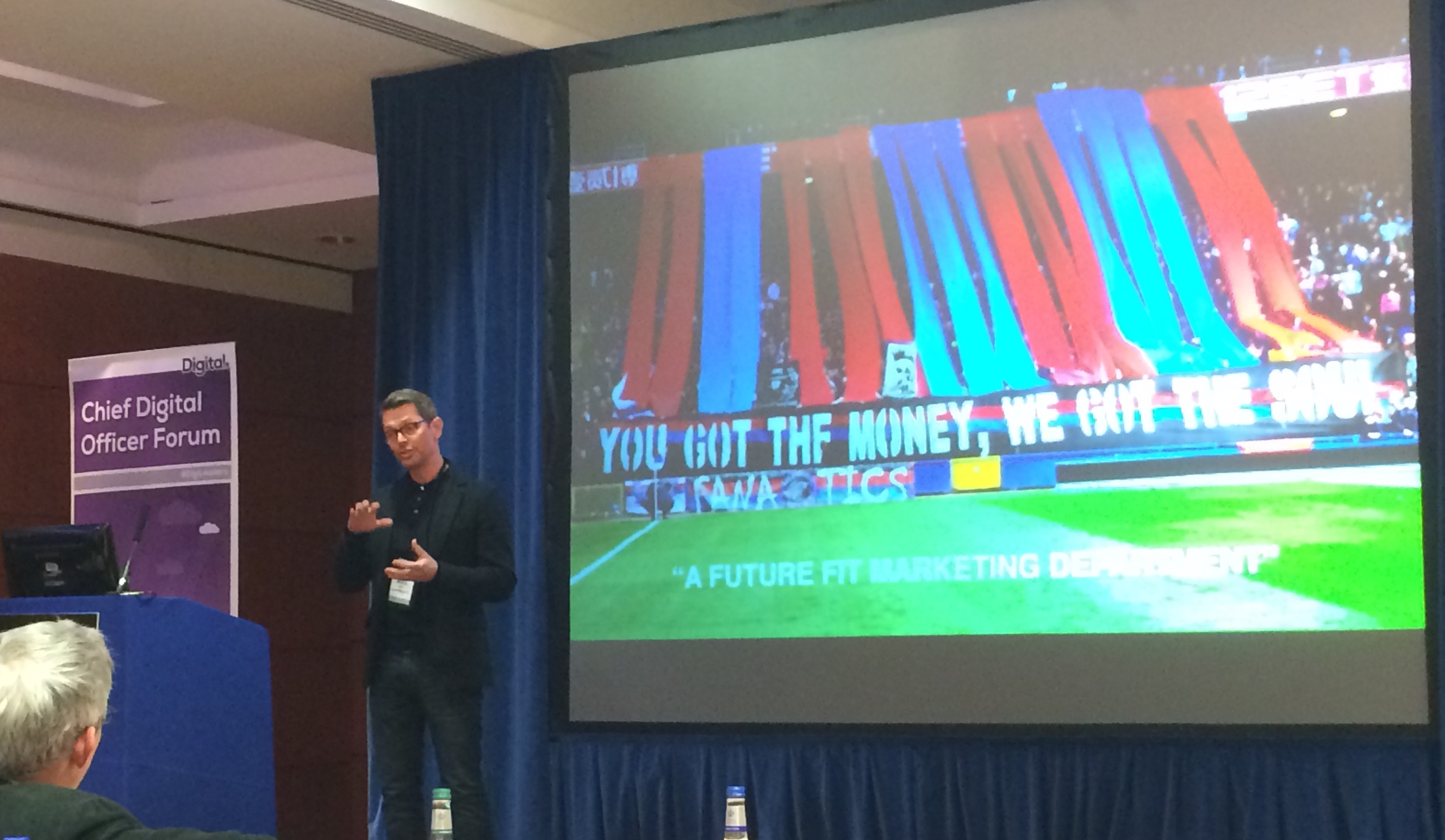 Meeting our customers where they are at time of their choosing was first mentioned during the first talk of the day by Patrick Jubb when he highlighted the issue of most marketing departments putting out content 9-5 Monday to Friday. Doing this means you you miss an opportunity to share moments of passion between the brand and the consumer and the content will no longer share a pulse with the consumer.
I really like this notion of sharing a pulse with the consumer – certainly this is something I want to get better at in my own social media efforts.
Robert Wint – Using Content to Improve the Customer Journey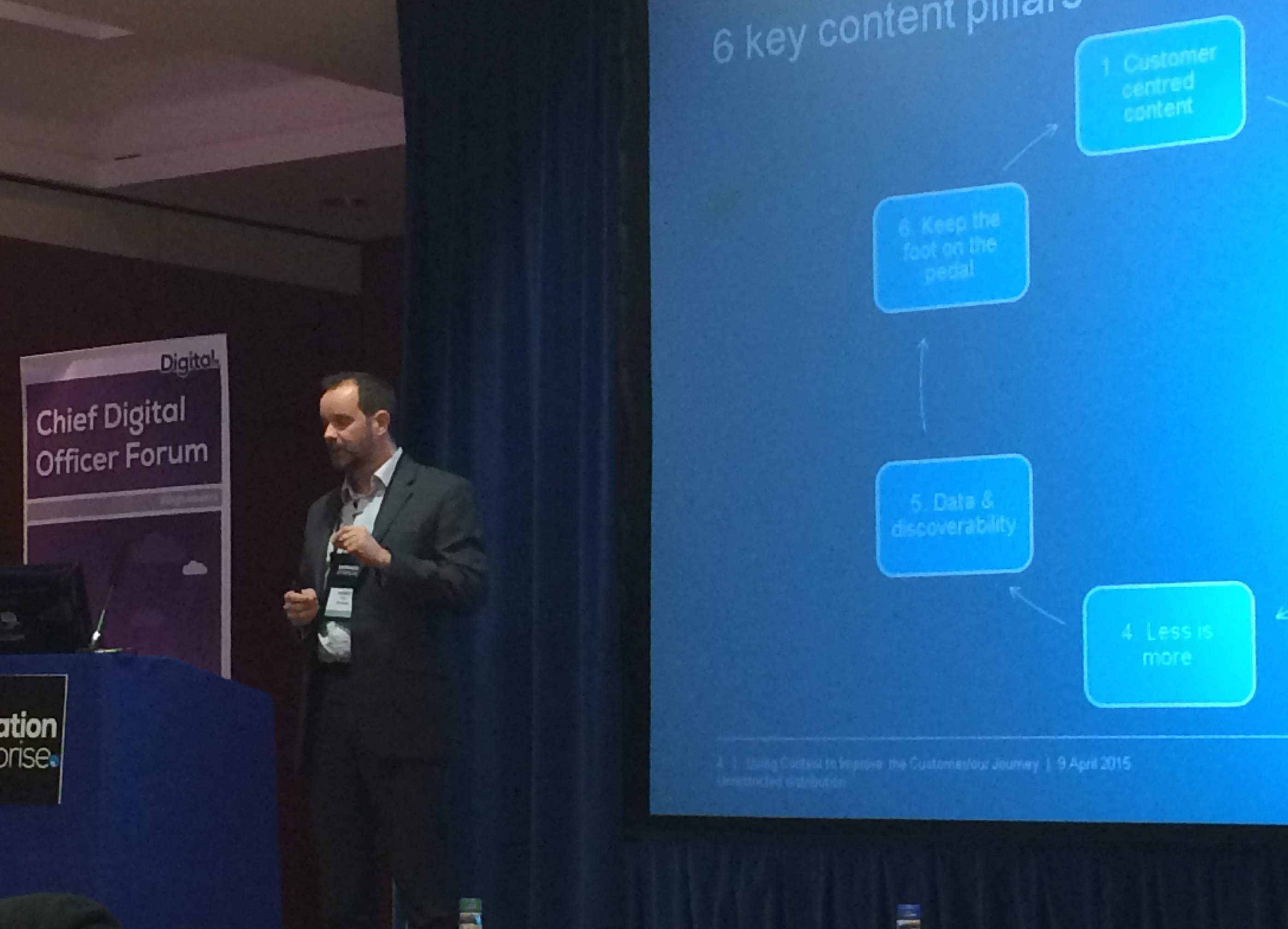 The recurring theme of testing was brought to the fore in Robert Wint's talk when he mentions the 6 key content pillars that Barclay's are using;
Customer Centred Content – that all content needs to be about the customer.
Don't focus on the page – focus on the user journey and how the pages interact together.
Test for continuous improvement – this was a big one for me.
Less is more – don't just grow content but focus on improving the quality of your content.
Data and Discoverability – everything should be well indexed by search engines and you should be able to analyse everything.
Keep the foot on the pedal – don't let up, continually improve and learn with your content.
I really loved that he was pushing his content teams not to produce more content, but to refine and test the content they already had, making sure it was fit for purpose and pruning back anything that wasn't.
Ana Serrano – Digital Transformation & Continuous Innovation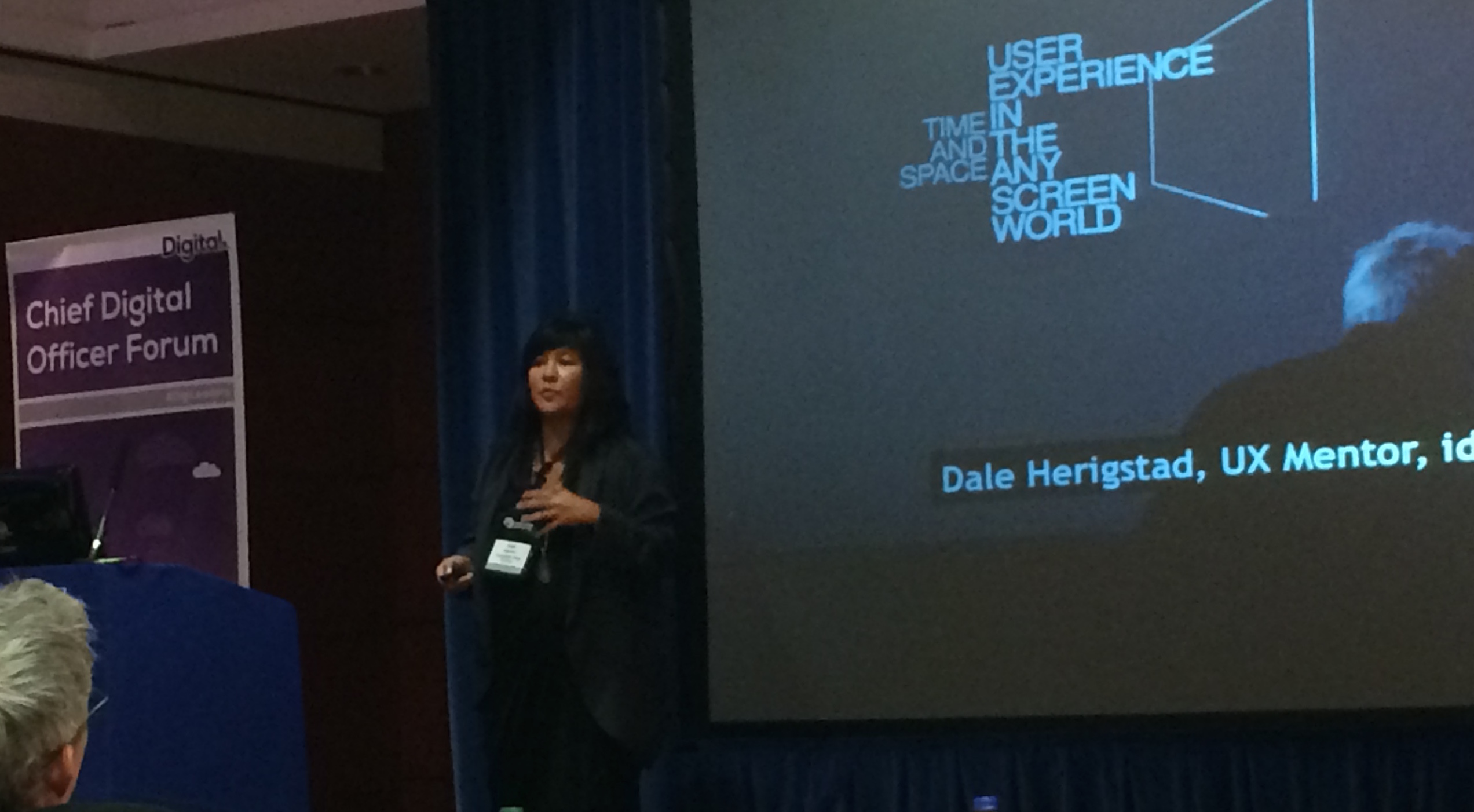 Looking at how we can share a pulse with our users and engage them when and where they want to be engaged was further brought home to us with Ana Serrano's talk. She mentioned how they repositioned their content to better suit their users by focusing on content that would speak to how we want to change ourselves.
The notion of getting CEO and Board buy in was also mentioned as part of the three tips she shared to help achieve transformation;
Share HR accountability but keep sole control of budgets
Ensure complete buy-in from CEO and Board
Use third-party consultants as a buffer
Martin Trickey – Do we Tell Stories Differently Now?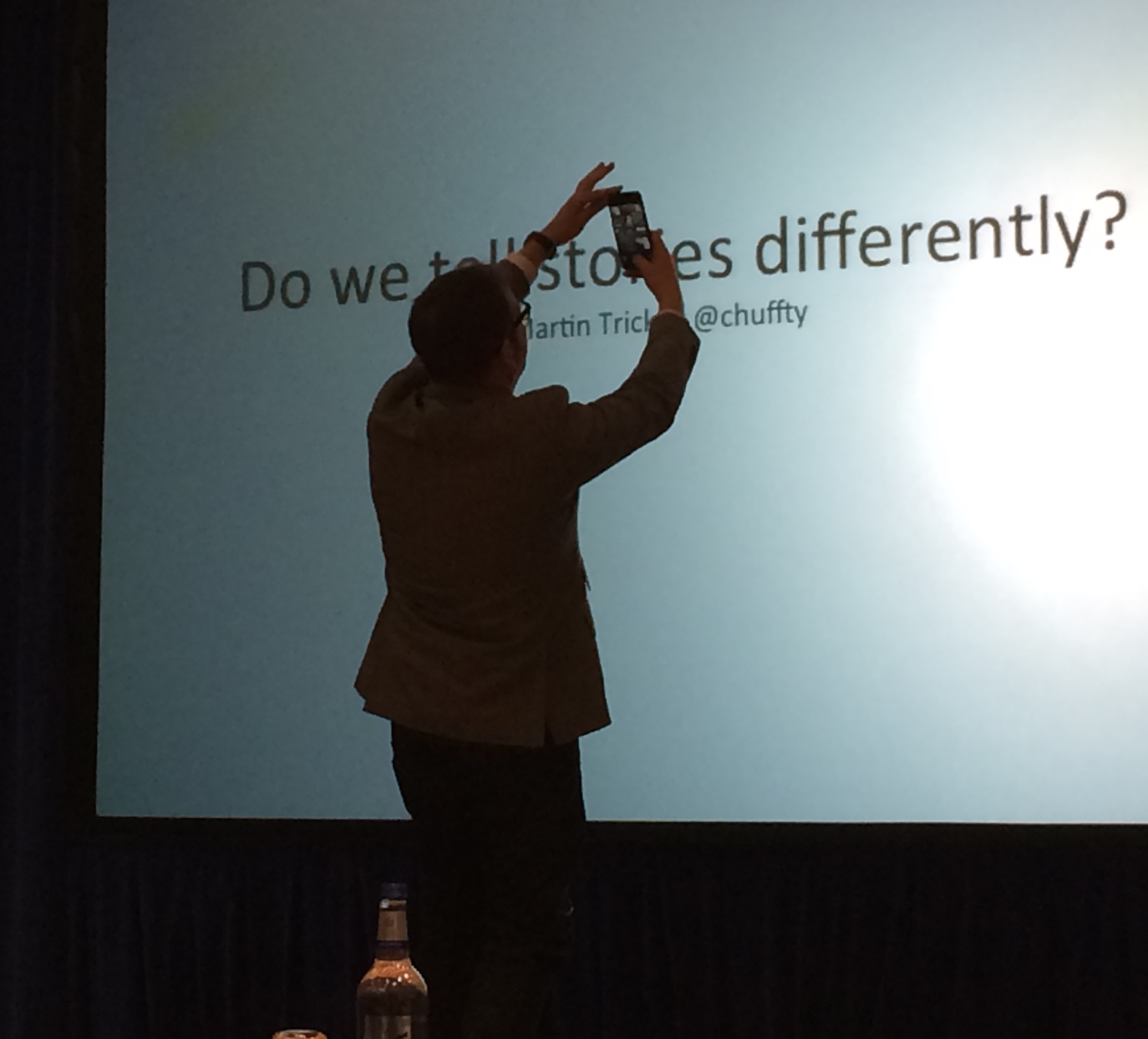 After successfully taking a selfie of himself up on stage, Martin Trickey inspired the audience with his talk around authenticity in the stories we need to tell in digital. One of my take aways from his talk was that finding genuine moments that you can share with your audience is what makes people want to buy into your story.
Martin ended his talk by saying;
We are still telling the same stories
Storytelling has reverted back to its social roots
Technology is enabling that movement back to social
Audiences are more global and more niche
The platforms for storytelling are multiplying
Kerensa Samanidis – Breaking in to the online video market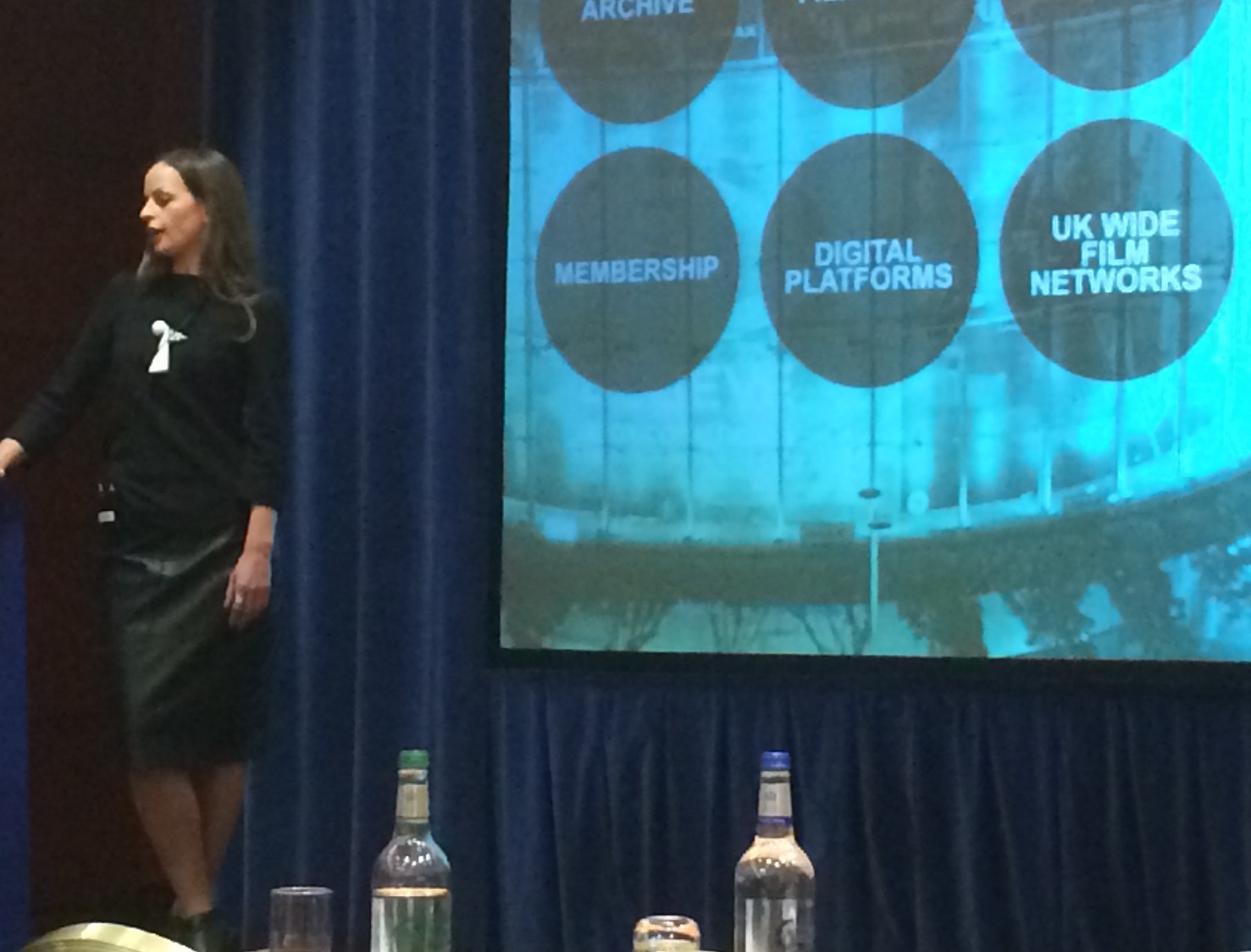 Testing was given high praise during Kerensa Samanidis' talk on breaking into the online video market – something I know nothing about!
The new VoD platform that the BFI have released has been designed to allow for testing and one of her takeaway points was to "build for change".
With testing you are able to see what works and what doesn't on various platforms and you will then be able to optimise your content to suit those platforms.
Amanda Neylon – The Importance of Focusing on Social Strategy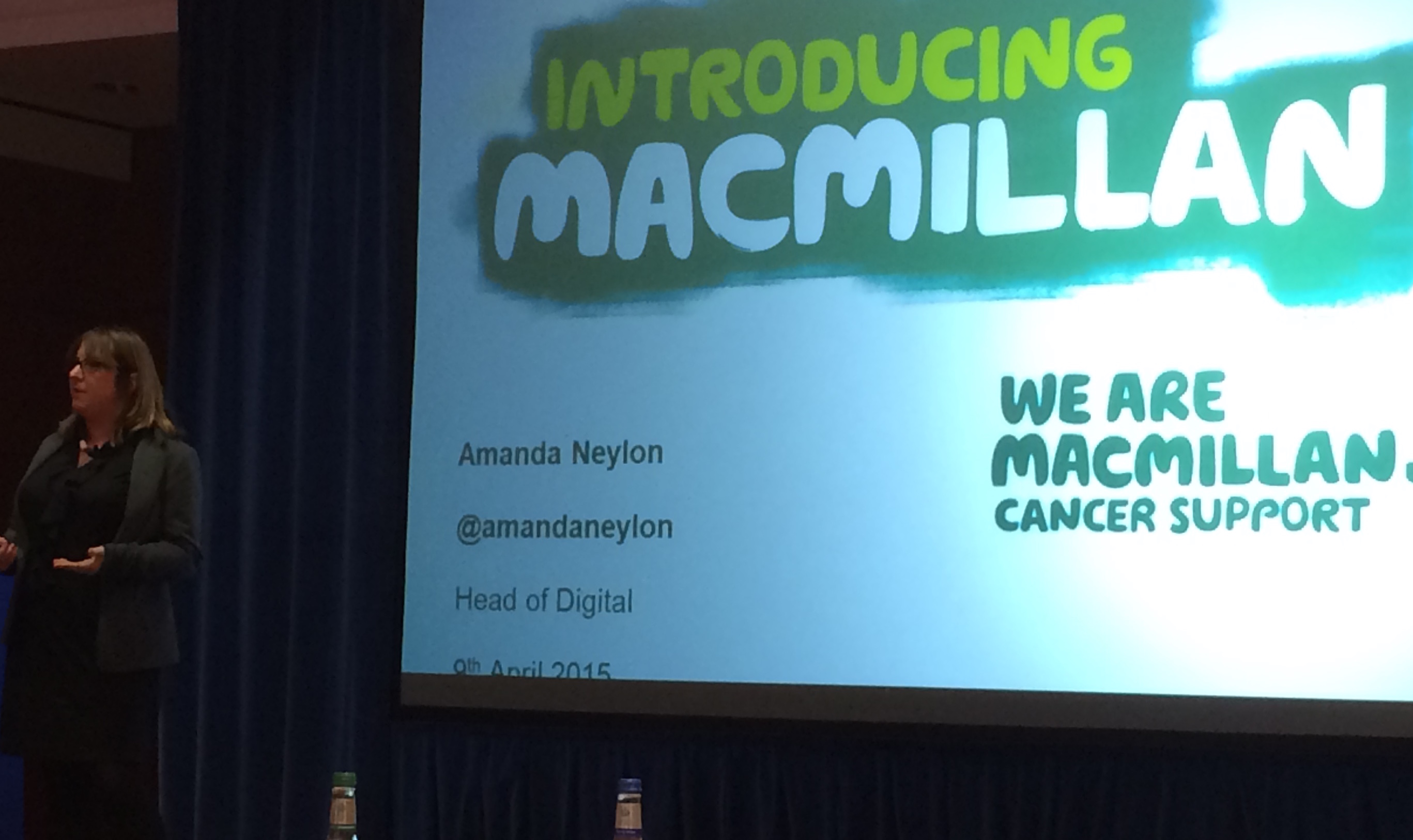 Empowering all people within an organisation to use social was the main theme of Amanda Neylon's talk. It was really inspiring to hear how they empowered a huge amount of their organisation to use social, growing their team from 3 to around 1000!
She shared four tips for companies that want to improve their social output;
Start small
You can't have too much communication internally
Think about culture, not just process
Keep testing, keep learning
Mark Elkins – From Passion to Purchase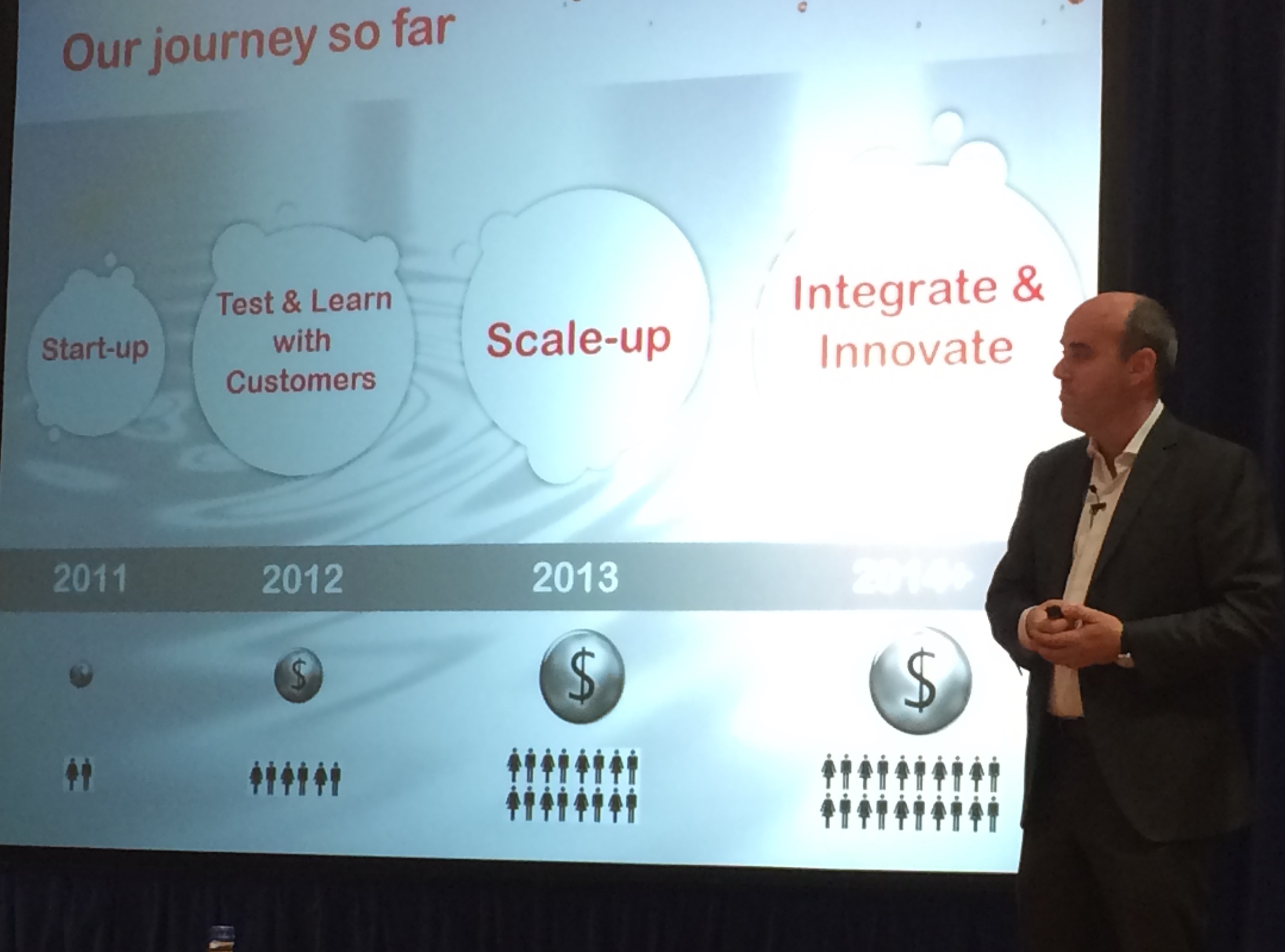 Last but not least we had Mark Elkins from Coca-Cola talking about their journey with digital. He pointed out that even though Coca-Cola have a massive amount of fans on social, it is about the quality of the connections you have with them – again meeting the fan where they live when they want to be met.
Mark summed up the themes that I was picking up on perfectly at the end of his talk when he shared these tips;
Make Digital a CEO priority – Get buy in from the start.
Start with the consumer/shopper – They are the focus.
Partner with your customers – Don't work against them, work with them
Test, learn, scale fast
Integrate across the business – Don't make social and digital a silo.
Wrapping Up
Hopefully you found this writeup useful, if you have anything to add please leave a comment below and if you did find it useful I would really appreciate a quick share!
If you want even more I have written up more in depth writeups of each talk over on my personal blog.